Producers
Martin Potter, Anna Grieve
Creative Director
Martin Potter
Filmmakers in residence, Port Augusta, Raukkan and Murray Bridge
Jeni Lee, Sieh Mchawala
Filmmakers in residence, Banlung
Koam Chanrasmey, Martin Potter
Filmmakers in residence, Strathewen
Celeste Geer, Martin Potter
Filmmaker in residence, Beaudesert
Peter Hegedus
Filmmaker in residence, Raja Ampat
Enrico Aditjondro
Filmmakers in residence, Cowra
Stephen Best, Jenny Ainge
Producers, Beaudesert
Samantha Ryan, Martin Potter
Local Content Producer, Beaudesert
Elijah Cavanagh
Local Content Producers, Raukkan
Victor Koolmatrie, Vernon Walker
Local Content Producers, Murray Bridge
Kelvin Kelly, Ken Wells
Local Content Producers, Banlung
Lam Suot, Ang Yung
Production Assistant, Strathewen
Daniel Koerner
Local Content Producer, Strathewen
Phillip Mitchell
Workshop Facilitators
Koam Chanrasmey, Anna Grieve, Jeni Lee, Sieh Mchawala, Martin Potter, Celeste Geer, Daniel Koerner
Editor, Port Augusta, Murray Bridge and Raukkan
David Ngo
Editors, Banlung
Ramón Sánchez Orense
Sok Chan Veasna
Editor, Strathewen
Sioux Currie - Little Big Works
Additional editing
Martin Potter, Koam Chanrasmey, Jeni Lee, Sieh Mchawala, Andrew Clark, Mietta Barling
Interactive Production Company
Freerange Future
Interactive Producer
Nick Crowther
Interactive Designer
Amy Milhinch
Interactive Developers
Yuri Tomanek, David Walker
Administration
Minka Park
Grading Facility
The Cutting Room
Sound Design & Mix
Michael Darren
Sound Design & Mix Port Augusta
Tom Harrer
Original Music
Andy Evans, Michael Goodfellow, Jai Lee-Lunghi, Martin Potter, Jimmy Rankine & Rough Image, Jason Sweeney, Harry Whizkid, Tom Harrer, Brett Aplin, Jamie Evans, Dexter Britain, Bosques di mi Mente, Gillicuddy
Strathewen Archival Photos
Bronwyn Apted, Ray Mann, the Mitchell Family, the Horne Family, Steve Pascoe, Malcolm Hackett, Diana Robertson, Celeste Geer, Angela Apted, the McKimmie Family, Laurie Nelson, the Tully Family
Strathewen Photos
Donna Todd, James Geer, Martin Potter, Mary Avola
"The Oldies" stories from Murray Bridge are produced with the Friends of the Murray Bridge Public Library Inc and the "Tapping Into The Oldies Project"
"The Oldies" Interviewers
Ann Hughes and Jean Filmer with Audrey Thomas, Laurel Warneke, Lee Lyons and June Bowyer
"The Oldies" Digital compilers
Ann Hughes and Audrey Thomas
"The Oldies" Transcriptions
Ann Hughes, Jean Filmer, Carol Turner and Chrissie Dodd
"The Oldies" Co-ordinator
Ann Hughes
"The Oldies" was produced with the support of the South Australian State Library Technology Branch
In Murray Bridge thanks to
Murray Bridge Council, Country Arts SA, Ripples Office Murray Bridge, Steve Sumner, Nunkuwarrin Yunti, Clyde Rigney Jnr., Murray Bridge Regional Gallery, Di Gordon, Lakalinjeri Tumbetin Waal (LTW), Longriders Christian Motorcycle Club, Kalparrin, Murray Bridge International Photographer's Club, Uccello Cafe, Murray Bridge Historical Society, Lutheran Community Care, Max and Jacqui Merkenschlager, Nayano Taylor- Neumann
In Raukkan thanks to
Raukkan Community Council, Derek Walker, Clyde Rigney Snr., Clyde Rigney Jnr, Rose Rigney, Verna Koolmatrie and all the residents of Raukkan
In Banlung thanks to
Non Timber Forest Products, Long Serey and all NTFP staff and board, Jocelyn Pederick, Ben Pederick and Good Morning Beautiful Films, Graeme Brown, Forest Mountain Voices, Ginny Lee, Alex Rodriguez and April at Health Unlimited, Isabel Rojo-Gonzalez at UNESCO, Nathalie Lahet and Ignacio Torres Tamayo at ASAD, Dam Chanthy at Highlander's Association, Phnom Village, Lunn Village, Ang Family, Uk Chantuok and family, Paul Humphrey at 3SPN, Gaetan Crespel and Julien Roumy at Bophana Centre, Eleanor Loudon at Australian Volunteers International, Sophal Sorn, Youthana Kong and Treetops Ecolodge
In Strathewen
Big Stories gratefully acknowledges Rebel Films and Celeste Geer for granting a limited licence to show excerpts from their documentary Then The Wind Changed and supplying additional footage on this website.
Many thanks to the members of Strathewen Community Renewal Association for their assistance in realizing this project.
The Strathewen community gratefully acknowledges the generosity of donors to the Victorian Bushfire Appeal Fund which made this project possible.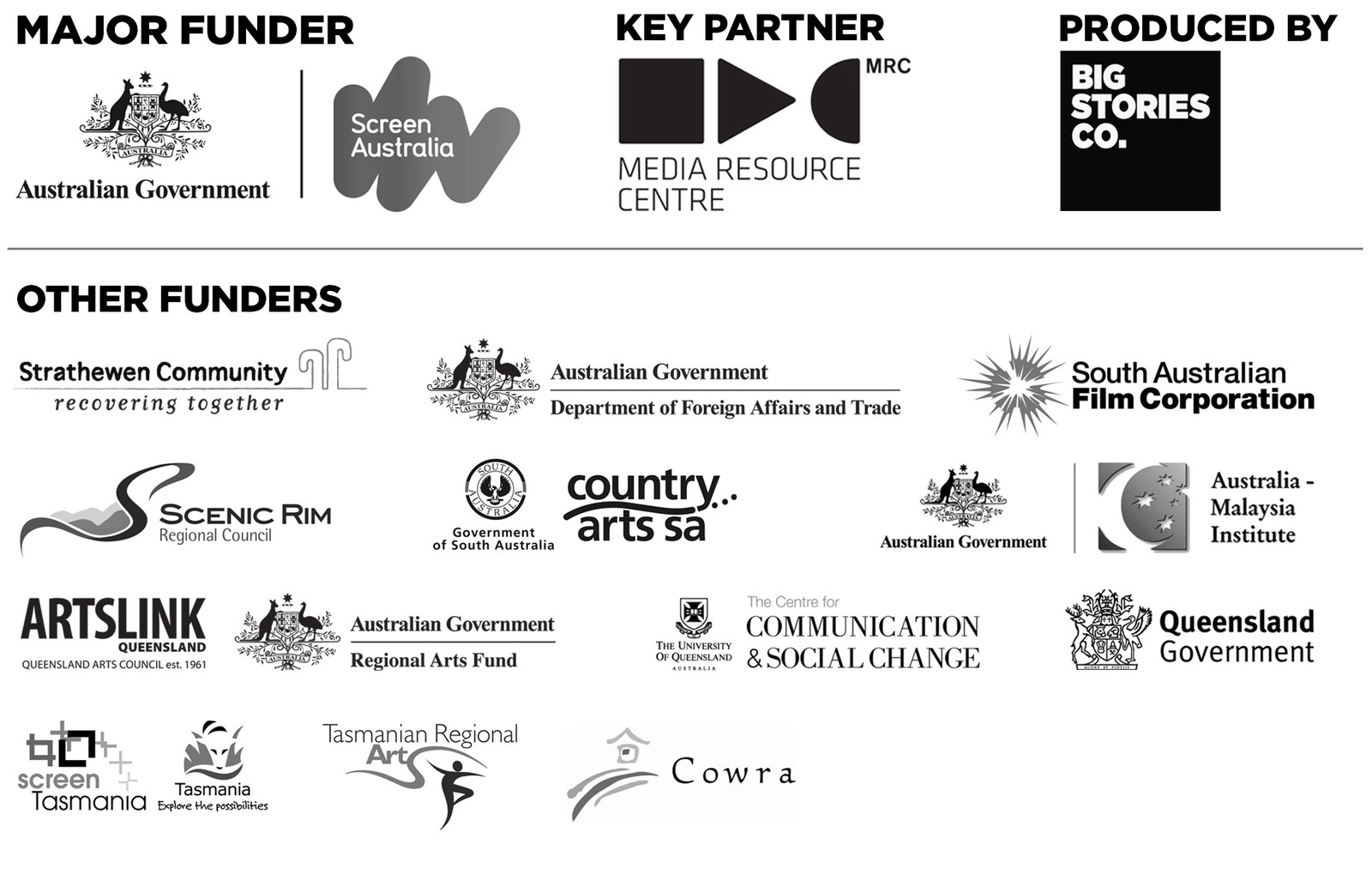 Financed with assistance of Screen Australia.
Originally developed in association with the Media Resource Centre Inc. and South Australian Film Corporation and Country Arts SA.